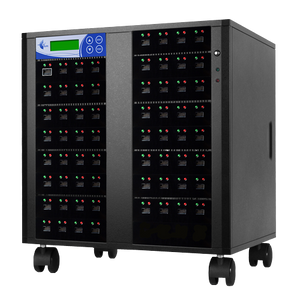 EZ Dupe, Inc.
EZ Dupe 1 to 63 eUSB Duplicator - Embedded USB Memory Cloner & DoD Eraser (EZDEUSB63T)
Regular price
$8,689.00
$0.00
EZ Dupe proudly presents the greatest media back up solutions for one of the newest storage for high end computers that needs small hard drive space... the embedded USB!
New eUSB duplicators easily and reliably create multiple copies of your eUSB (embedded USB) storage devices without a computer.
Our eUSB duplicators features Asynchronous copy. This copying feature allows each channel to function independently and copies directly from 128MB of built-in memory so there is no need to start and end a copy cycle at the same time.
Vertical mounted Embedded USB are recommended. Horizontal mounts be be use for certain size that does obstruct the slot.
Our eUSB duplicator can easily and reliably create multiple copies of your eUSB cards without a computer or cumbersome software. Each eUSB channel has dedicated copy throughput of 35MB per second.
Source Analysis feature can identify the content on the master and intelligently copy only the data to speed up copy cycle. Fast, reliable, convenient, eUSB duplicators help you to get more done in less time!
The eUSB duplicator has 2 different types of Copy Modes and 4 Different Erase Modes. 
eUSB duplicator features user friendly 4-key control panel with LCD, high speed Embedded USB duplication and bit-by-bit Compare function to confirm successful copies. Only carefully selected and tested materials are employed in EZ Dupe's professional line of eUSB duplicator.  
* Standalone solution; no PC or software is needed

 
* Copy Speed up to 35MB per Second (Max Speed depends on the eUSB drives)
* Multiple copy modes with fast copy (data only) and whole capacity copy
* 
Full copy
mode to copy the USB drive bit by bit
* Increased eUSB ports for more output of eUSB drive duplication
* Support all file formats, file size and card/drive capacity
* 

Support Synchronous and Asynchronous copy modes

, the duplicator will start copy right away once the targets inserted, you don't have to wait for each port to start at the same time 
* DoD compliant erase function permanently deletes sensitive data
* Unique Source Analysis feature
* Easy to use, cost-effective to operate
* Real-time display of detailed information
* No warm-up or cool-down required
* Light weight, heavy-duty, durable construction
* User friendly ergonomic, portable design makes daily tasks easier
Operating Type
Internal Interface
Number of Copies
Up to 63 Embedded USB (eUSB) copies

Model

EZDEUSB63T

Supported Media

Transfer Speed

Up to 35MB per Second 

(max speed depends on eUSB)

Format Modes

FAT32 - For SD over 2GB but less than 32GB

exFAT - For SD over 32GB

Compare Modes

Compare: compare the copied target devices against the source for accuracy




Copy + Compare: allows duplicator to start Copy process first, then follow with "Compare" process immediately.

Types of Copy

Synchronous or Asynchronous

Copy Area

Full Copy - Whole Media

Quick Copy - Essential Files

Format Supported on Quick Copy

Window: exFAT, FAT16/32, NTFS

 

Linux: EXT2 / EXT3 / EXT4

Erase Modes

Full Erase - Whole Media

Quick Erase - Essential Files

DoD 3-pass - 3 times erase in 5220.22-M standard

DoD 7-pass - 7 times erase in 5220.22-M ECE standard

System Memory

Power Requirement

Operating Temperature

Operating Humidity

Gross Weight

70 lbs

Package Dimensions

23 x 23 x 23"
Adobe Acrobat Reader required to open.
---
MANUALS
To download a manual just right-click on the name and select "Save As..."
---
SPEC SHEET
To download a Spec-Sheet just right-click on the name and select "Save As..."
---
More from this collection