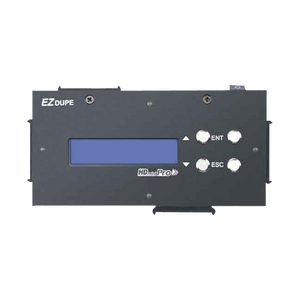 EZ Dupe, Inc.
EZ Dupe HDMini Pro 1 to 3 Hard Drive Duplicator - 18GB/Min SATA HDD / SSD Cloner (DM-HS2-4H3B)
Regular price
$699.00
$0.00
EZ Dupe Introduces the most convenient SATA Hard Drive Duplicator in the market!
HDMini Pro is the most compact sized 3 copies Hard Drive duplication systems that are hi-speed units with duplication speeds up to 300MBps for SATA Hard Drives in a single touch of a button. With easy to read LCD Display and user friendly unit that can fit in the palms of your hand!
This SATA Hard Drive Duplicator is not a docking station that requires PC to connect. The true "standalone" Hard Drive Duplicator duplicates the entire hard drive bit by bit in a high speed of 300mb per second where traditional docking station can only transfer up to 28kb/per second. Copying Hard Drive should be a breeze and not be waiting for days!
The compact HDMini Pro Hard Drive Duplicator features as a stand alone machine. So you do not have to connect it with a computer. You can just simply plug in the source drive and the target drive(s) into their respect slot and with a press of a button, you hard drive will be duplicated.
It is even better that Portable HD Mini Hard Drive will arrive to you as ready to use. You don't even to go through any hassle of initial setup. Using this machine is just as easy as a press of the button.
And of course, the best benefit of being a portable gadget is that you can carry it any where you go. It also feature a sturdy case that help to protect the unit from impact during travel.
The HDmini Pro has 2 different copy modes (Quick & Whole Media) and 4 different erase modes (Quick, Full, & 2 types of DoD compliant erase) that enhances the work of hard drive duplication functions.
The new HDMini Pro is a portable Hard Disk Drive Duplicator with copy speed up to 300 MB/S (SATA2). Easy to carry around, HDMini Pro simply allows you to work more flexible!

* Support up to 3 Hard Drive/SSD Copies
* 2 Different Copies Modes & 4 Erase Modes
* Duplicates 2.5" or 3.5" HDD and SSD at speed up to 300 MB/sec or 18GB/Min
*

 

Supporting IDE, Multi-Format SSD Interfaces and CF & CFast Card (optional adapter)
*

 

Intelligent copy

 

mode to copy System and Files only, while the Whole Media mode to copy the whole HDD or SSD bit by bit and

 

supports all kinds of file systems. 
*

 

Supports MBR and GPT

 

partition format, unlimited capacity, and 4K advanced format hard disk drive
*

 Works like an eraser with 3-Pass and 7-Pass 

DoD Erase

 functions
* Equipped with LED lights, work status at a glance
* The ultimate lightweight and slim design for mobile usage!
* One year warranty on parts and labor
* Free lifetime technical support with toll-free phone number provided
Operating Type
Stand Alone (No PC Required)
Internal Interface
SATA I, SATA II, SATA III
Number of Copies

Transfer Speed

Up to 300MB/Sec or 18GB/Min (max speed varied depending on HDD speed) 

Buffer Memory

128MB

Control Button

Supported HDD

2.5" and 3.5" SATA HDD and SSD

Duplicator Mode

System and Files Quick Copy

Whole Media Copy

Supported Formats

Window: exFAT, FAT16/32, NTFS

 

Linux: EXT2 / EXT3 / EXT4

Erase Modes

Full Erase - Whole Media

Quick Erase - Essential & System Files

DoD 3-pass - 3 times erase in 5220.22-M standard

DoD 7-pass - 7 times erase in 5220.22-M ECE standard

Capacity

Storage Temperature

Operating Temperature

Storage Humidity

Operating Humidity

Regulation

Gross Weight

Package Dimensions
Adobe Acrobat Reader required to open.
---
MANUALS
To download a manual just right-click on the name and select "Save As..."
---
SPEC SHEET
To download a Spec-Sheet just right-click on the name and select "Save As..."
---
More from this collection