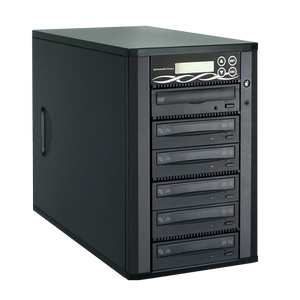 EZ Dupe, Inc.
Spartan Edge 1 to 5 DVD / CD Duplicator D05-SSP
Regular price
$379.00
$0.00
The Spartan Edge duplicator is the flag bearer that revolutionized the DVD and CD duplication is still leading the way with its reliable fast copy is the preferred choice for all audio and storage backup experts in all fields such as wedding photographers, churches, sound engineers, schools, government, and many more!
The Spartan Edge duplicator is featured with the exclusive Dynamic Hard Drive Partitioning that automatically adjusts the hard drive partitions based on the size of the master disc.
It also comes with the Master Error Proof system that increases the efficiency by preventing the duplication failures caused by disc errors. Designed to support most of the CD/DVD formats, this copier is very user friendly.
It finishes up your duplicating tasks with great showing a 24x DVD+R Write Speed, 8X DVD+RW and 52X Rewrite and CD Rewrite Speed. Equipped with the SATA interface, the performance of the duplicator is highly optimized. The Spartan DVD duplicator includes professional grade functions cased with professional duplicator graded drives.
Spartan 5 DVD and CD discs copy duplicator includes a DVD-ROM drive and a DVD+/-RW writer. Only carefully selected and tested materials are employed in Spartan's professional line up of Edge Series systems.


* Burn approximately 50 DVDs (4.7GB) at 24x per hour!
* Supports DVD+R/RW, DVD-R/RW and DL DVD blank media formats
* Automatically performs a self-diagnostics test upon boot up
* 
Exclusive "DHP Technology" creates a hard drive partition based on the 
size of each file so no HDD space is wasted (with hard drive installed)
* No cool down period between runs
* Duplicator will automatically recognize format of source discs
* System is upgradeable via firmware
* Copy, test, verify, and compare functions available
* Intuitive user-friendly LCD display
* One-year warranty on parts and labor
Note: Does NOT copy protected disc
Optional:
* Build-in USB: Connect to the computer as an

 

external burner

 

via USB (optional)
* Build-in HDD: Save the master disc as an alternative

 

image file

 

into the internal hard drive (optional) 
Please go to the ISO series duplicator page if you need ISO feature.
Operating Type
Internal Interface
Numbers of Copies

Reading Speed

DVD+/-R: 24x

DVD+/-RW: 8x

DVD+/-DL: 8x

CD-R: 52x

CD-RW: 32x

DVD-ROM, DVD-R, DVD-Video, DVD-RW, DVD+R, DVD+RW, DVD+R9, CD-DA, CD-ROM Mode 1, CD-ROM XA Mode 2, Multi-session Photo CD™ , CD-I, Video CD, CD Extra (CD Plus)

Supported Recording Discs

12cm 4.7GB DVD +/-R




12cm 4.7GB DVD +/- RW




12cm 8.5GB DL DVD




12cm 80min/700MB CD-R




12cm 74min/650MB CD-RW




8cm 1.47GB mini DVD-R




8cm 24min/210MB mini CD-R




8cm 50MB Business CD-R 

External PC Link (optional)

Optional USB 3.0(for external CD/DVD-ROM/RW Drives)

Input: 100 ~ 240V AC; Output: +5V DC, 3.8A

Regulation
Adobe Acrobat Reader required to open.
---
SPEC SHEET
To download a Spec-Sheet just right-click on the name and select "Save As..."