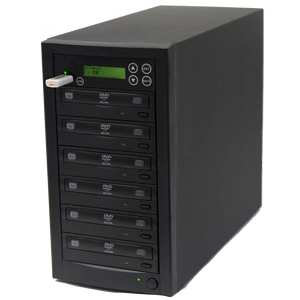 EZ Dupe, Inc.
EZ Dupe Media Maven Duplicator - USB & Disc to 5 CD/DVD Copier (D905-SSP)
Regular price
$579.00
$0.00
Media Maven Duplicators
Back up your important data from erasable USB flash drives to archival CD's or DVD's! Or better yet... copy any of the flash media in the unique deck of 4 different flash media memory to the same or different type of flash media in this unique one of a kind duplicator in the market.
The Media Maven duplicator is standalone and absolutely packed with rich features. The flash memory slots allow you to do the crossover duplication, from USB flash memory to optical disc. Everything that the Media Maven copies will be with lightning fast mirror image accuracy!
With 1-Year Warranty
EZ Dupe's Media Maven series of duplication system will copy DVD, CD & USB devices to either DVD or CD media. With the optional Media Expander (Sold Separately in our store) the Media Maven will also copy SD, Micro SD, Mini SD, SDHC, MMC, MS & MS Duo devices to DVD or CD media when you install the Media Expander.
1

 

USB

 

Flash Memory to 5 Discs Copy 

**

(audio files excluded)

Up to 5 Disc to Disc(s) Copy

(same disc format & size to avoid "Not Enough Space" Warning)
Having all of these capabilities in a single footprint, each Media Maven model features the latest in duplication technology, ensuring the most accurate transfer of data - ever! You'll enjoy all of its built in user-friendly features, like the ability to copy USB directly to a disc with the touch of a single button.
* Disc to Disc Copy: Duplicates DVD/CD discs and virtually any data disc in a matter of minutes.
* USB to Disc duplication: Backup important data from USB devices to standardized CD/DVD. 
Copy
 data (audio files excluded) 
from a USB drive to one or multiple
CD/DVD
discs
* 5-button control panel: Functional and user-friendly design
* 1-button operation for USB to disc duplication.
* 1 year warranty on parts and labor
* Free life time technical support with toll free phone number provided.
Operating Type

Stand Alone (No PC Required)

Model
Number of Copies

up to 5 Discs Copy from Disc
up to 5 Disc Copy from USB Flash Media

Control Buttons

4 Main Buttons with 1 quick access key (USB)

Up to 24x from Reader Rom

Maximum Writing Speed

DVD+/-R: 24x
DVD+/-RW: 8x
DVD+/-DL: 8x
CD-R: 52x
CD-RW: 32x

Supported Disc Formats

DVD-ROM, DVD-R, DVD-Video, DVD-RW, DVD+R, DVD+RW, DVD+R9, CD-DA, CD-ROM Mode 1, CD-ROM XA Mode 2, Multi-session Photo CD™ , CD-I, Video CD, CD Extra (CD Plus)

Supported Recording Discs

12cm 4.7GB DVD-R/RW; 12cm 4.7GB DVD+R/RW; 12cm 8.5GB DL DVD; 12cm 80min/700MB CD-R; 12cm 74min/650MB CD-RW; 8cm 1.47GB mini DVD-R; 8cm 24min/210MB mini CD-R; 8cm 50MB Business CD-R

English, Spanish, Portuguese & Japanese

Power Requirement

Regulation

Gross Weight

Package Dimensions
Adobe Acrobat Reader required to open.
---
More from this collection